Mud Puppy*



Flower Box*


Copper Canyon*

Flower Patch**



Beetlemania *

Not sure about a product? Click here to learn which Lupine product is right for your pet.
Retired Lupine - These are old patterns and colors that have been "retired", but may still be around. If you don't see a pattern or color on our page, simply contact us and we'll do our best to find it for you. *Please note that some items may have an *asterisk beside them meaning that particular pattern or color may have limited product availability. You can reach us by phone at 1-800-327-5957 or email us.
1" Adjustable Combo Collar
Code: LUP1RD-5556
---
---
---
Product Description
•••••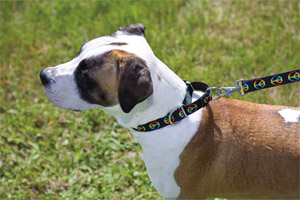 A wonderful dual-action collar for walking or training and the only design for greyhounds and similar dogs that back out of regular collars. Rated the Top Pick by a national canine publication. Martingale-style with an additional sewn-in D-ring so it can be used either as a limited-slip choker or as a regular flat collar.
"For walking and training only. This collar should not be left on an unattended or unleashed dog."
Available in size ranges: 15"-22" and 19"-27"