Pet Foods at Four Your Paws Only
As pet owners ourselves, we are extremely selective when choosing a pet food brands to carry in our store. We do not carry any low quality dog or cat foods that contain corn, soy, dyes, unhealthy fillers, meat or poultry by-products, meat or poultry digest and other low quality ingredients. We carry only premium brands of all natural and holistic dog & cat foods.
We also offer a Frequent Buyer Program on most of our pet foods, which means you will receive a free bag of the food after so many purchases of that brand. (Example; Buy 8, Get 1 FREE).
The following brands offer the Frequent Buyer Program: Open Farm, Earthborn, Earthborn Unrefined, ProPac, Venture, Orijen, Acana, Fromm, Canidae, Taste of the Wild, Taste of the Wild PREY, Taste of the Wild Ancient Grain, Stella & Chewy's, Primal, and Nature's Variety Instinct Raw.
Dog & Cat Kibble and Wet Food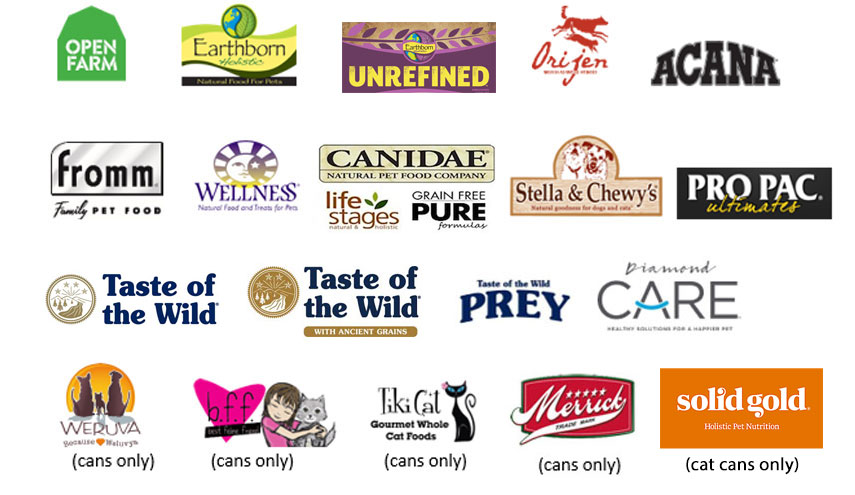 Dog & Cat Freeze Dried Raw and Frozen Raw



Freeze Dried Raw and Dehydrated Foods




Small Animals & Bird Food
We carry Oxbow for Small Animals, Oxbow Hay, Zupreem for Birds, Lafeber Nutriberries & Avicakes for Birds, and Marshalls Ferret Food, Kaytee Fiesta Diets for Small Animals & Birds.



We offer a frequent buyer program on Oxbow Food & Hay for Small Animals.