Four Your Paws Only Pet Supplies & Doggie Bakery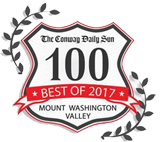 Four Your Paws Only LLC is a unique, pet-friendly store located in scenic Mount Washington Valley, New Hampshire that caters to pets and their owners. We carry a full line of dog and cat food, pet toys, outdoor gear, gifts, Pet Bakery and more. Four Your Paws Only is one of the largest retailers of Lupine Pet Collars in the country.
Locally owned and operated by Brian and Kathy Ahearn, Four Your Paws Only is very active within their pet community and has worked diligently and passionately to enrich the lives of pets and their humans in a unique and creative way since 1994.
Featured in NH Homes!